Last Thursday [10th November 2011] saw the first of this winters birdwatching cruises on the Rivers Tamar and Lynher. Luckily the met office had got it wrong and instead of the forecast heavy rain it turned out to be a mild and sunny day with little wind and good visibility. As usual we headed upstream from Saltash, soon finding the first Avocets, unfortunately a bit distant near the confluence with the Tavy. Plenty of Grey Herons and Little Egrets were fishing on the flooding tide and about 40 Black-tailed and 3 Bar-tailed Godwit were probing the mud along with Curlew and Oystercatcher.  Whilst watching a Cormorant struggling with a flounder a Great Black backed Gull swooped in and stole it – right on cue as I'd just been talking about kleptoparasitism.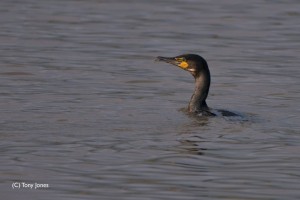 Fewer Shelduck were seen than usual but highlight of this first part of the cruise was a splendid drake Mandarin, loafing with Mallard at the waters edge, just north of Cargreen. A new species for our cruises list and not one that I would have predicted. Further upstream we were treated to a fly past by a Peregrine and a Common Sandpiper near Weir Quay.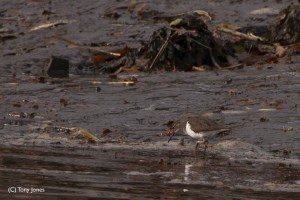 It was then time to turn around, head back down the River Tamar and join the Lynher. There was very little on Rat Island but at Wacker and Shillingham  there were good numbers of Mallard, Wigeon and Teal and more Curlew herons and egrets.
However, Spoonbill had eluded us and we were about to turn back when one of the observers spotted a large white bird with typical scything feeding action far upstream. Francis, our skipper slowly navigated up the river, with very little water below us and we ended up with good views and enabled Tony to get a few photos. The comparison with the Little Egret, Carrion Crow and Herring Gull gives a good  indication of size.
So we turned for for home finally getting good views of a Redshank and Greenshank together, another real life ID book comparison. Finally, between Saltash and Cremyll 4 adult Mediterranean Gulls drifted past the boat. All in all another excellent day on the river.