RIVER TAMAR BIRDWATCHING CRUISES
OSPREYWATCH 2012
Bird-watching River Trip
Sunday 2nd September 2012
Departing from Plymouth Barbican at 3.30pm & Saltash at 4.15pm. Returning Saltash 7.00pm & Plymouth 7.30pm Ospreys are one of our most familiar birds – but for nearly everyone, usually only seen on the TV screen. However each   autumn a few Ospreys linger on the Tamar/Lynher estuaries on passage to their West African wintering grounds.   Now Tamar Wildlife and Plymouth Boat Trips give you the chance to search for an Osprey from the river which is undoubtedly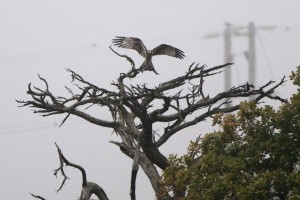 the best way to find one. We are running a single boat trip during the peak migration time of late August and early September.
Timed to coincide with the rising tide, there is a possibility that we will come across an osprey hunting fish and plunging spectacularly into the river. This amazing  sight,  followed by the bird having to haul itself out, with wings beating strongly and giving a distinctive shake to shed water from its plumage, is one that will never be forgotten.
Alternatively we might discover one in a riverside tree, eating a flounder or a mullet that it has recently caught or simply resting and preening before commencing its long journey south.
Departing from Plymouth Barbican or Saltash you can join us on this special trip.
As these are wild birds we can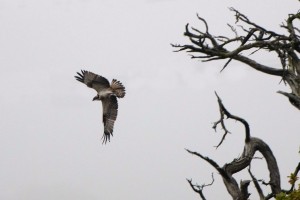 not guarantee seeing an Osprey but will have experts on board to tell you about them and other wildlife of the Tamar Valley.  There will be a full commentary by Bruce Taggart who is part of a long term project, to encourage Ospreys to re-colonise and nest in the area as they almost certainly did hundreds of years ago. This involves building artificial nests on platforms erected in suitable nesting habitat.
Refreshments and bar available on board. Tickets available at £15.00 for adults and £7.00 for children.
Booking your place on the OspreyWatch river cruise is simple. Download a booking form by clicking theBooking form 2012(2) and post with your payment or phone 01752 829163 for more details.
Photos of Osprey on the River Lynher, Sept 2011 courtesy of Tony Jones