First trip of the 2014/15 season and another fine afternoon with plenty to see. Sailing on a slightly higher tide than usual we were able to get further up both the Tamar and Lynher. Only a  few Avocets were seen, c40 on the mudbank at Holes Hole but given the mild weather perhaps that s not surprising. I would expect the numbers to increase in the next few weeks and especially after Christmas. Highlight was a first winter Glaucous Gull flying up river above Cargreen. This is the first time we've seen Glaucous Gull and the date is quite early. They normally start to appear in the south west after New Year. The two Spoonbills were already roosting on Rat Island, off Jupiter Point as we sailed up the Lynher and Derek Spooner took several photos including a rather bizarre one featuring the 'Three billed Spoonbill' a species new to science!!
Dereks full list was :-
Great Crested Grebe 6,Cormorant 60,Little Egret 20, Grey Heron 15, Spoonbill 2, Mute Swan 8, Canada Goose 3, Shelduck 180+, Wigeon 280+, Teal 10, Mallard 50, Buzzard 2, Pheasant 5, Oystercatcher 80+, Avocet 41, Lapwing 60, Dunlin 6, Black-tailed Godwit 10, Bar-tailed Godwit 2, Redshank 8, Greenshank 5, Common Sandpiper 2, Black-headed Gull 100+, Herring Gull 50+, Great Black-backed Gull 10, Feral Pigeon 10, Woodpigeon 10, Kingfisher 1, Pied Wagtail 1, Blackbird 2, Redwing 10, Magpie 2,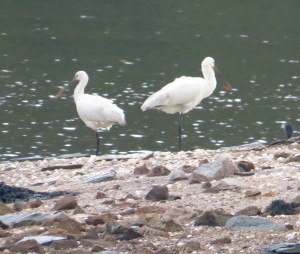 Carrion Crow 100+, Starling 50.