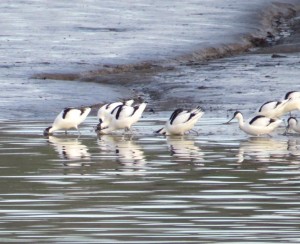 This page gives information on some places where you can watch birds from the shore.
The lower Tamar, north of the Royal Albert Bridge is largely flanked by agricultural land which has limited access or MoD land with no access. There are however some public footpaths which give views across the river and these are marked on Ordnance Survey map Explorer Series 108, Lower Tamar Valley and Plymouth, 1:25000 scale.
River Tamar, Devon Bank
Warleigh Wood and Warleigh Point, west of Tamerton Foliot on B3373. Views of Tamerton Lake the confluence between the Tavy and the Tamar.
Footpath heading west from Bere Ferrers to Thorn Point and then north to Liphill Quay and Tuckham Bridge.
minor road north west of Bere Ferrers railway station to Clamoak Quay, Weir Quay and Hole's Hole and then footpath towards South Hooe.
several footpaths north and west of Bere Alston with views across the river towards Calstock and Cotehele.
River Tamar, Cornwall banks
Kingmill Lake from the China Fleet Club. A Cornwall Wildlife Trust (CWT)reserve with two hides, one at Skinham Point with views across the Tamar and the other looking across the saltmarsh where many waders and wildfowl roost at high tide. Best to watch on the rising tide beginning 2-3 hours into the flood tide as waders are pushed up. Telescope advisable.
Footpath south from Landulph Church and around the bank towards Cargreen and also north of Cargreen. Some of this route involves walking along the beach and is impassable at high tide so check tide times before you head out.
Halton Quay, limited views.
Cotehele Quay, limited views, footpath towards Cotehele House (NT property).
River Lynher, north bank
several minor roads south from Saltash to Wearde Quay, Forder and Anthony Passage but with very limited parking by the river.
Churchtown Farm, a community nature reserve administered by CWT, accessed from Wearde Road in Saltash and giving views across to Beggar's Island (Rat Island) where the Spoonbills often roost at high tide between November and March.
River Lynher , south bank
Jupiter Point, accessed down Ferry Lane, the minor road off the A374 west of Torpoint. Views towards Beggars Island for Spoonbill at high tide.
Wacker Quay. Picnic area and parking and then walk eastwards towards Anthony along permissive path created and maintained by Tamar Valley AONB. Views of winter waders and possibly Spoonbill on rising tide from 2-3 hours into the flood. High tide wader roost on saltmarsh by the large inlet pipe.
lay-by on north side of the road at Sconner (SX 365565 easily missed as it is off the road). View from the gate across the fields to the river and saltmarsh beyond. Telescope preferable.