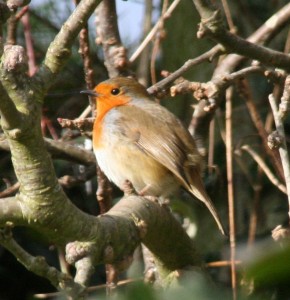 The RSPB Big Garden Birdwatch takes place this weekend. It's very easy to take part and you'll be joined by over half a million fellow garden birdwatchers across the country.
All you have to do is look out of a window overlooking your garden or a local park and count the highest number of each species of birds you see at any one time over a period of one hour. Any time of the day is fine although I usually watch from early morning, sat in the warm with a cup of tea and binoculars at the ready. Fill up all the bird feeders the evening before so the birds have plenty of food. The weather forecast is for another cold weekend so the birds will be relying on the extra help we can give them.
Note down all the birds you see actually in the garden, not flying over. Remember it's the highest number of each species at any one time, not the total over the hour as you may count the same bird several times. These should be recorded and sent off on the online form that you can download from the RSPB website, www.rspb.org.uk/birdwatch
The results are used to produce valuable scientific data. Over the past 30 years the Garden Birdwatch data has been used to monitor the decline of some species eg House Sparrow whose number have more than halved whist other species like Goldfinches are now regular visitors to many gardens.
So whether you're a seasoned Big Garden Birdwatcher or if its your first time give it a go. It's great fun and your results really count.