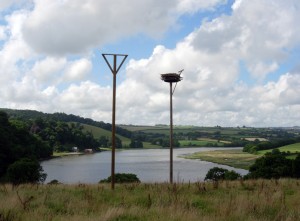 The boat cruise yesterday gave people the first chance to see the Osprey Platforms installed in the summer by Peter Kent and his band of willing volunteers. Peter and I had the idea of trying to attract Ospreys to breed in the Tamar Valley after a bird called Tore, ringed at the RSPBs Loch Garten eyrie, spent several weeks exploring the valley in autumn 2011. (Unfortunately Tore is thought to have died in its west African wintering area).
However, Peter's role as the East Cornwall Reserves Manager for the Cornwall Wildlife Trust enabled him to progress the project. He arranged for Roy Dennis, 'Mr Osprey' from Scotland to come down to speak to us in the spring and he spent a couple of days with Pete selecting potential locations for the siting of nesting platforms. After liaising with local land owners and negotiating several hi-ups, (including the planning minefield which required, drawings, maps, method statements and landscape impact assessments), the first platforms were erected in July and August 2013. Poles were donated by BT Openreach and the nests were built by wiring sticks onto a wooden platform and then lining with moss. We now have 3 in the Tamar Valley and 3 in the Lynher Valley, some on saltmarsh and some in farmland adjacent to the river. There are plans to install another 3 platforms in the future.
Already there has been some interest from Ospreys passing through the valley this autumn. I was fortunate to see two separate birds, one off Wacker Quay and one at Empercombe in September. Another observer reported seeing birds two separate birds perched on the platforms on the River Lynher.
So let's hope that in the coming years all our efforts will be rewarded and we'll have Ospreys nesting in the South west once again.