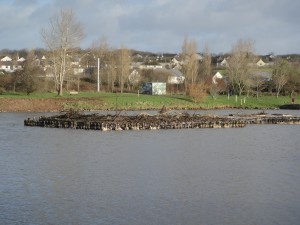 Two weeks since the work was completed on the island and the lake has been filling slowly from the freshwater inflow since the sluice was closed. It is now almost full as the images show. The bank is already beginning to grass over.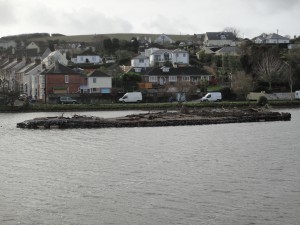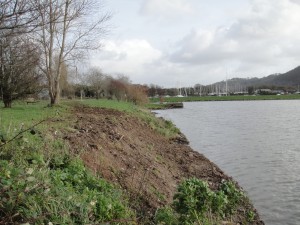 I've been tree planting over the past week, ably assisted by Tony Jones. Over a 100 plants, of a selection of native species that will provide a wildlife corridor and screen the football club to create a more rural feel. The species are Crab Apple, Wild Cherry, Goat Willow, White Willow, Osier, Silver Birch, Field Maple, Hazel, Blackthorn, Hawthorn, Damask and Dog Rose, Geulder Rose, Buckthorn, Alder Buckthorn and Dogwood. We will also clear round the self seeded Oaks to prevent them from being overun by Bramble and Gorse.
We've also planted some trees to screen the pumping station and to overhang the water's edge. These are mostly willows. All the trees have plastic shelters to create a favourable micro-climate and promote growth as well as providing strimmer protection. There will be more planting after Christmas including some Osier willow on the island.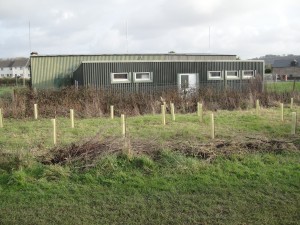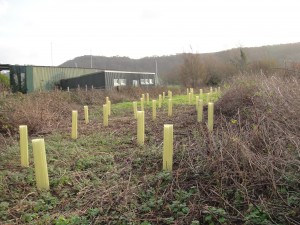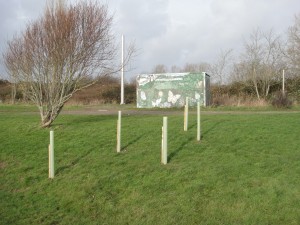 Unfortunately we miscalculated the height of the Kingfisher perch that has disappeared below the surface but the post should be OK.