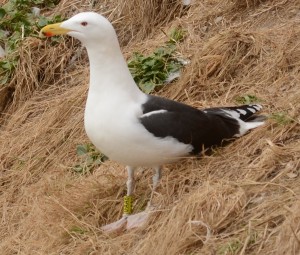 Photo by Sue Sayer, Cornwall Seal Group http://www.cornwallsealgroup.co.uk/
A Great black-backed Gull ringed as a chick on Guernsey  in June 2010 has been sighted on Looe Island and may possibly breed here this season. If so it may well be the first recorded instance of breeding emigration of a Great Black back from Guernsey to England. The bird was sighted at Downderry in September 2010 and was seen several times at Looe in 2012 and 2013. Identified by the inscribed yellow ring on its right leg, it is now approaching breeding age and was reported from Looe Island on 19th March. Its full Life History can be viewed here.
British Great black backs are generally considered to be sedentary although immature birds do range farther afield. However the results of recent colour ringing GBb gulls in Brittany, Normandy, Guernsey and on Looe Island has shown that cross Channel movements are more frequent than previously thought. Here are some examples from birds ringed on Looe Island.