Looe Island is a Cornwall Wildlife Trust reserve off Looe in south-east Cornwall. It holds what is now the largest breeding colony of Great Black-backed Gulls with 78 pairs in 2012, 66 pairs in 2011 and 79 pairs in 2010.
Historically, Mullion Island, off the Lizard held the largest colony. This was certainly true in the mid 1980s when the Seabird Colony Register noted 117 pairs. However, by Seabird 2000, the last complete national survey, numbers had dropped to 49 pairs, a 58% decline since SCR and an annual % change of -6%. In 2008, (the most recent available data) the RSPB counted 38 pairs (Paul St Pierre pers. com.); thus it is apparent that the decline on Mullion is continuing. The reasons for this are unclear but might be due to the presence of rats which have been responsible for heavy predation on other islands.
In 2010, following a proposal from Peter Kent, the CWTs south-east Reserves Officer, a colour-ringing project was started on Looe Island to monitor the post breeding dispersal of juvenile Great Black-backs and in the longer term look at survival and breeding site fidelity of this enigmatic bird.
Each year, an initial visit in May records the number of nests and eggs and this is followed by visits in June and July to ring the chicks.  The chicks are marked with a BTO metal ring on the left leg and a white 'darvik' plastic ring with a red alpha-numeric code on the right. Once the chicks fledge these rings can be read in the field with a telescope or photographed with a good digital camera.
Since the project began 140 chicks have been ringed (49 in 2010 and 91 in 2011), of which there have been 71 sightings away from Looe Island. The majority of these have been of live, apparently healthy birds giving a survival rate approaching 50%. Soon after fledging sightings are reported from the local area as might be expected with Looe beach and harbour, the East Looe River and Downderry beach being favoured locations. By September birds are dispersing further afield, with an easterly or south easterly bias, with two reaching Guernsey and single birds in Normandy and Brittany. Some of these movements are quite quick as in the case of L:AS6, ringed on 26th June 2011, seen as a fledged juvenile on Looe Island on 5th August and then reported from Anse du Guillec, Brittany, twenty two days later.
First year and second year movements continue in a mostly easterly and south easterly direction as can be seen from Table 1.
Table 1 Sightings of Great Black Black backed Gulls, 2010-2012, greater than 5 km distance by county (region).
| | | | |
| --- | --- | --- | --- |
| Cornwall | 10 | Guernsey | 10 |
| Devon | 4 | Brittany, France | 2 |
| Hampshire | 1 | Normandy, France | 3 |
| Isle of Wight | 1 | South Wales | 1 |
| Kent | 1 | North-west Spain | 1 |
However, the furthest recovery was of L:AH1, ringed on 13th June 2010 and sighted at Carreiro Beach, Pontevedra, NW Spain on 26th October 2011 , a south westerly movement of 939km.
All reports have been from coastal locations. There have been several multiple sightings, including 5 cross Channel movements indicating that these are probably frequent occurrences (Table 2, Fig. 1)
Table 2 / Figure 1 Selected Multiple sightings of Great Black- backed Gulls
| | | | | |
| --- | --- | --- | --- | --- |
| Ring Number | Date ringed | Sighting #1 | Sighting #2 | Sighting #3 |
| L:AH6Light Blue/Dark Blue | 13.06.2010 | Nevern Est. Newport Pembrokshire 14.05.11 | Nevern Est. Newport Pembroke 28.5.11 and 30.05.11 | Downderry beach, Cornwall. 15.01.12 |
| L:AJ1Pink/ Orange1 | 27.06.2010 | Omaha Beach, Vierville sur mer, France 16.09.2010 | Dawlish Warren NNR, Devon. 30.10.11 | |
| L:AJ6Light Green/ Purple | 27.06.2010 | Le Rozel, Normandy, France. 22.8.11 | Slapton Sands, Devon 17.10.11 | |
| L:AJ0White | 27.06.2010 | Choet Landfill Beach, Guernsey. 12.02.11 | Choet Landfill Beach, Guernsey. 12.03.11 | Mevagissey Harbour, Cornwall. 22.01.12 |
| L:AK2Light Green | 27.06.2010 | Vazon Beach Guernsey, 09.11.11 | Vauville Bay, Le Rozel, France. 11.11.11 | NB. 2 day movement |
| L:AK6White, Blue | 27.06.2010 | Parelle and L'Eree Beach, Guernsey. 19,21 & 24.09.10. Also 17.10.10 | Looe Harbour, Cornwall. 09.10.11 | Downderry beach, Cornwall 15.01.12 |
| L:AN9Orange1,2,3 | 25.06.2011 | Dawlish, Devon. 22.10.11 | Bembridge Harbour, Bembridge, Isle of Wight, 21.11.2011 | Dungeness Kent, 15.12.11 |
Although there may be an initial dispersal, some birds have returned to their natal area. L:AK6 is one such individual having been to Guernsey and then returned. Others are very sedentary and have not ventured far from Looe. Examples are L:AD8 and L:AT3 that have been seen on 19 and 13 occasions respectively, either scavenging at low tide around Looe Harbour or loafing on the sandbanks in the East Looe River. Both were ringed on 25th June 2011.
Figure 1 Selected Multiple Sightings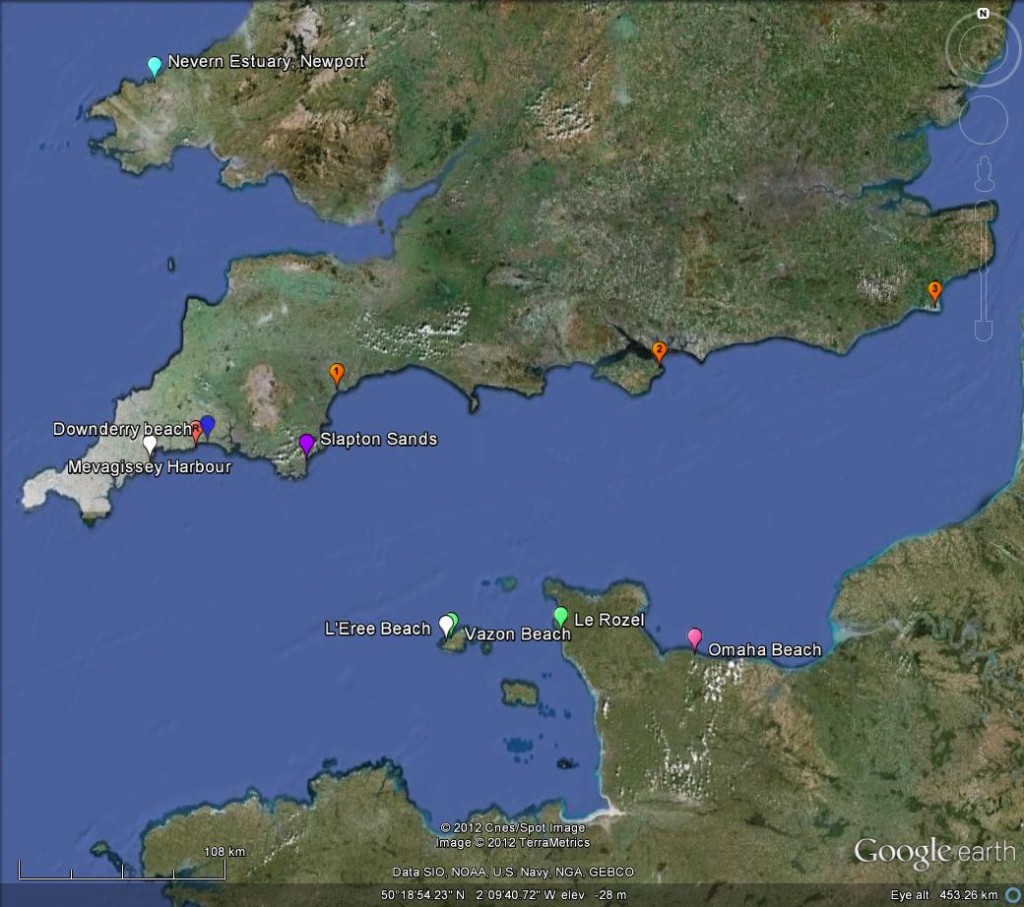 It will be interesting to monitor sightings over the next couple of years as the 2010 ringed birds approach maturity. Will they return to Looe Island to breed or nest elsewhere?
Two ringing expeditions are planned for 2012 when it is hoped at least another 60 chicks will be ringed. You can add to our knowledge by keeping a look out for any ringed Great Black backed Gulls and reporting them to looegulls@gmail.com. You will receive a full life history of the bird and your sighting will add another piece to the jigsaw.
Thanks are due to the CWT and CBWPS for their financial support; to Jon and Claire, the CWT wardens for facilitating access to the island, to the ringing team and birders and dedicated 'gull watchers' that continue to report sightings.
Bruce Taggart
June 2012