This is a copy of Stuart Croft's summary published on Birdguides. Stuart will be joining us on some of the bird cruises this winter.
This year marked the fifth year of the Cirl Bunting Reintroduction Project — a joint venture between the RSPB, Paignton Zoo, the National Trust and Natural England to re-establish the Cirl Bunting in Cornwall.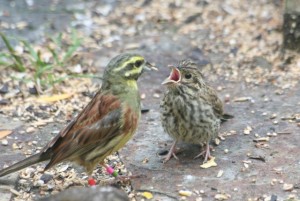 Male Cirl Bunting feeding a newly fledged chick (photo: Stuart Croft).
The year saw a continued increase in the breeding population, which now stands at 16 pairs and, thanks to the generally fine summer weather, most pairs pursued two, or even three, breeding attempts. The result of all this activity was the fledging of a minimum of 39 juveniles. This is likely to be an underestimate as we take a hands-off approach to nest monitoring in order to reduce disturbance. Intensive monitoring of these breeding birds again revealed what complex lives they lead, with separations and re-pairings not uncommon. One particular male, who at over four years old is our oldest surviving male, paired with two different females. Perhaps he is starting to feel his age, as last year he chose three! His performance has become legendary in the Cirl world and no doubt his productivity will be what all others will be compared with for a very long time to come. Long may he continue!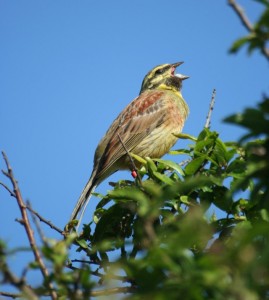 Singing male Cirl Bunting (photo: Stuart Croft).
Another very good year of hand-rearing saw 70 of the intake of 76 chicks from Devon make it to release. All these birds are sourced from well-populated areas of Devon where the population has continued to increase in recent years. This success is in no small part due to the dedication and experience of our avicultural team who, with support from vets at the Zoological Society of London who provide advice and protocols on hand-rearing, continue to do a great job in what is a very specialist field. By the time each bird leaves the confines of its release aviary, it will be sporting a set of uniquely coloured rings, which enable us to monitor its progress in the 'outside' world. To date several have already ventured some way beyond where they were released to mix with their wild-bred conspecifics.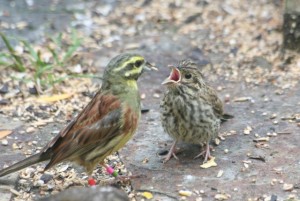 All Cirl Buntings released as part of the project carry a unique combination of colour rings (photo: Stuart Croft).
As the winter progresses, it is likely that several birds will continue to disperse further afield, seeking out their favoured foraging habitat of over-wintered, weed-rich stubbles and bird-seed mix crops. Many of these areas have been put in place through the continued support from local farmers. Their knowledge and enthusiasm for farmland wildlife has ensured that a diverse range of flora and fauna will benefit from suitable management. Some farmers have now been offered financial support from Natural England via agri-environment schemes for this work, and this will secure the future of Cirl Buntings in Cornwall.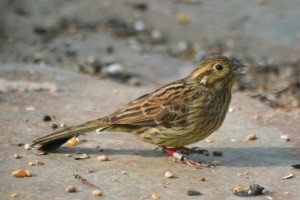 Female Cirl Bunting (photo: Stuart Croft).
Over-winter survival is usually good, so it is hoped that the majority of the birds being seen now will make it through to pursue breeding attempts next spring and summer, the last year of captive-reared releases. However, the key to making this a successful reintroduction project will be when the Cornish population becomes self-sustaining. With an increasing proportion of the population now made up of birds actually born and bred in the county we are, hopefully, a step closer to this becoming a reality. We are, as always, indebted to the help and support we receive from the local community and the dedicated team of staff and volunteers who keep a close eye on the birds throughout the year.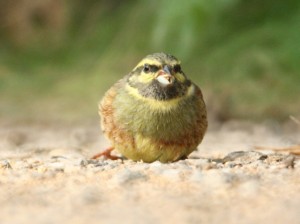 Male Cirl Bunting (photo: Stuart Croft).
If anyone has any sightings, would like to commit to regular voluntary work, or simply wants more information, please feel free to contact me. Volunteers are a major resource for the RSPB and make a vital contribution to its aims to take action for the conservation of wild birds and the environment. On a project like this, we are looking for volunteers with good field identification skills and reasonable fitness who could commit to at least one day each fortnight, since it requires regular work to become familiar with the ring identification and the monitoring area. We also offer residential placements during winter.
Stuart Croft, RSPB Cirl Bunting Reintroduction Project Field Officer
Friday 22nd October 2010