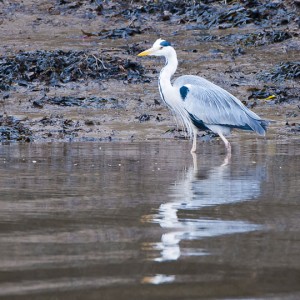 You know how on some days everything goes right …..well the 9th Feb trip ticked all the    boxes. Firstly we had a dry day, not that frequent recently and although it wasn't sunny we had light winds, good visibility and it wasn't that cold either. I joined the boat at Cremyll and as we sailed upstream a Razorbill got us off to a good start – a new species for our cruise list. Then I noticed 2 Spoonbills feeding near Kinterbury point. and all this before we had picked up the majority of our passengers from Saltash. Once we had done so, we went back and all enjoyed excellent views of the Spoonbills still foraging with  typical scything action in the shallow water. Although not ringed, it is probably that these were the same birds that we'd seen in December. Also two Common Sandpiper were seen feeding nearby.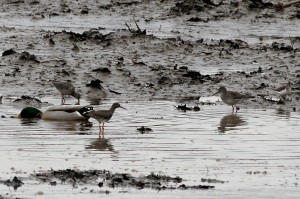 We then continued on our normal route upstream. Black-tailed Godwit, Curlew, Wigeon, Teal and Shelduck were soon added to the list and then our first Avocets, rather distant off Warleigh point at the mouth of the Tavy and our 3rd Spoonbill. Near Cargreen we saw single Greenshank and Spotted Redshank, momentarily captured by Charlie Bird's excellent photo. Then more Avocets, much closer this time and plenty of gulls, Redshank and another Common Sandpiper. On the mud bank at Clifton, 35-40 Lapwing were loafing with yet more Avocet picking Hydrobia snails from the surface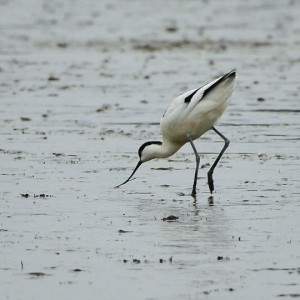 Two Buzzard circled overhead but as time was pressing, it was 'about turn' and back to the River Lynher. The Spoonbills were still feeding but had grouped together off Ernesettle and a Mediterranean Gull was seen by some. Turning into the Lynher estuary, 2 Red breasted Merganser flew past. Upstream we saw another Greenshank and had some more excellent views of Curlew, Grey Heron, Little Egret and over 100 Avocet on the mud east of Erth Barton.
Then a small raptor flew rapidly over and behind the boat. I only got the tail end of it but it looked like a Merlin. Fortunately it perched at the top of a pine tree and we were able to turn the boat to go back and have another look. Surely it wouldn't stay long enough to confirm the identification, but sure enough it did, silhouetted against the sky and long enough for Tony and Charlie to get some shots. Originally we thought it a male but the barred tail and general brownish hue lead me to suggest it's a female. This was only the second occasion we've seen a Merlin in 6 years of boat trips.
Finally as we headed back to Saltash we were treated to a wonderful fly past from the 3 Spoonbills as they headed upriver, captured in Stephen Blakeways photo. A fitting end to a particularly memorable trip.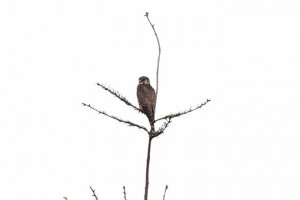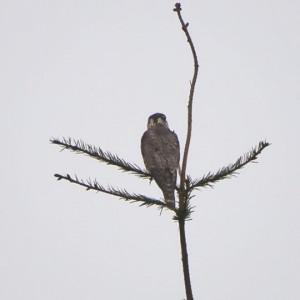 Many thanks to all who helped out, especially to Charlie Bird, Stephen Blakeway and Tony Jones for the photos and I hope our fellow passengers enjoyed it as much as I did.
Highlights included:- 5 Little Grebe, 12 Great crested Grebe, Cormorant, Heron, Little Egret, 3 Spoonbill,  12 Mute Swan,  300+ Shelduck, Wigeon, Teal, Mallard,  2 Red-breasted Merganser, 2 Buzzard, 1 Merlin, 1 Kestrel, Oystercatcher, c310 Avocet, 35 Lapwing, 2 Dunlin, 60 Black-tailed Godwit, 40 Curlew, Redshank, 1 Spotted Redshank, 2 Greenshank, 3 Common Sandpiper, 1 Mediterranean Gull, Black-headed Gull, Herring Gull, Great Black-backed Gull,  1 Razorbill.