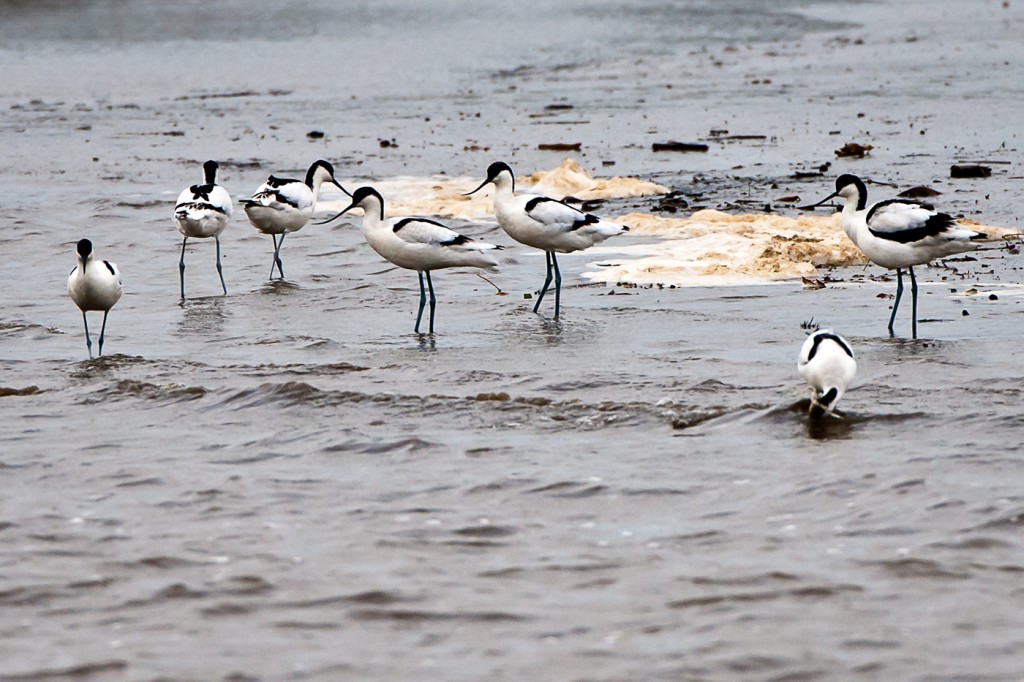 Another lucky window between the rain! The night before had seen floods across Cornwall and Devon so we were pleased that almost everyone got to Saltash for the 9.30am start. The 80 strong contingent from the Devon Wildlife Trust had come from as far afield as Oakhampton and Exeter. With all the rain from the previous two days the river was in full flow. Even at low tide much of the mud was covered and the debris being washed downstream was incredible – branches, logs and even a huge round straw bale.  Consequently the birds were all rather distant on the lower Tamar but we had better views up river including a nice Common Sandpiper and an unexpected Grey Plover.  Most of the Avocets were frequenting the River Lynher and we had some lovely views opposite Wacker Quay. Unfortunately there were no Spoonbills on this occasion, only the second time in 6 years that they've not been seen from a winter cruise. There had been 3 birds a week or so previously but maybe the inclement weather had forced them to move out of the area.
Derek Julian provided the following counts
Tamar Estuary –   13 Mute Swan, 5 Cormorant, 18 Herring Gull, 11 Great Black-backed Gull, 4 Little Egret, 69 Wigeon, 32 Teal, 9 Heron, 528 Black-headed Gull, 58 Shelduck, 40 Dunlin, 92 Curlew, 89 Black-tailed Godwit, 8 Oystercatcher, 1 Great Crested Grebe, 24 Mallard, 52 Avocet, 62 Redshank, 2 Greenshank, 1 Common Sandpiper, 2 Common Gull, 2 Buzzard, 1 Little Grebe, 1 Grey Plover, 1 Falcon Sp. (prob. Peregrine seen on the top of a pylon but not seen well enough to identify), 110 Carrion Crow, 1 Pied Wagtail, 35 Starling, 1 Coal Tit heard calling.
Lynher Estuary – 10 Heron, 9 Cormorant, 10 Great Crested Grebe, 7 Great Black-backed Gull, 7 Little Egret, 66 Curlew, 54 Mallard, 129 Shelduck, 79 Avocet, 4 Dunlin, 65 Black-headed Gull, 37 Teal, 65 Wigeon, 1 Greenshank, 2 Mute Swan, 61 Oystercatcher, 1 Little Grebe, 4 Stock Dove, 1 Chaffinch, 1 Mistle Thrush, 2 Magpie, 30 Starling
Tony Jones's exceptional Avocet photos are a delight to see. You can even pick out the prey items in some of the birds bills – possibly small fish or prawns. How they distinguish between prey items and debris in such turbid water I don't know and the reaction time between touching the prey and grabbing it must be milli- seconds.