A rather chilly day on the river this one! Wind had been blowing from the east for a week or so but at least it wasn't raining. As we sailed upriver towards the pickup at Saltash, the 3 Spoonbills were again feeding off Bull Point. Therefore we collected our passengers and went back to have a look…..but they'd flown off!  Not a good start. However, we headed back upstream following our usual route and picking up the normal species on the way –Curlew, Oystercatcher, Wigeon, Teal and Cormorant to name a few. There were only a handful of waders below Cargreen which is usually the case after periods of dry weather. It's interesting how the birds use the whole of the river depending on the varying weather and water flow conditions. This illustrates the importance of protecting the whole area and not having just one or two refuges. There were good numbers of Shelduck generally and 2 Common Sandpiper near Weir Quay. Today the majority of the Avocets were feeding on the mudbank at Clifton, probably picking off Hydrobia snails but some were in the river giving excellent views. In one of the fields adjoining the river was a flock of Golden Plover, a bird not regularly seen on our trips so a nice addition to the day list.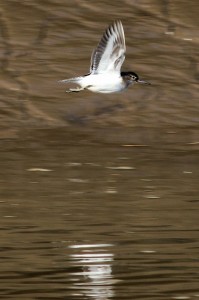 We headed back downstream, under the bridges and into the River Lynher. A male Red breasted Merganser was displaying to two 'redheads' near Forder and there were several Great Crested Grebe now resplendent in their breeding plumage. More Shelduck, Wigeon and Teal and some nice views of Grey Heron and Little Egret, both somewhat scarce on this trip. Then a Spoonbill was sighted feeding in the shallows off Wacker Quay. Somewhat distant at first, it continued feeding as we approached scything the water back and forth. Some skilled navigating by Skipper Colin got us further upstream than ever before. A Snipe was captured in Charlie's lens (we all missed it) and a second Spoonbill was roosting on the saltmarsh opposite Sconner, but no sign of the third bird. As we returned, the other Spoonbill was still feeding, much closer now and gave us the opportunity to watch its hunting method. Sweeping with its bill open it would snap up a small fish or prawn, then throw its head back and swallow it. Sometimes it would run about chasing prey which begs the question 'How does it detect prey in the turbid water?' I did some research and a paper about Ibises (the same family as Spoonbills) in 'The Auk' in 2010 describes a sense called 'remote touch.'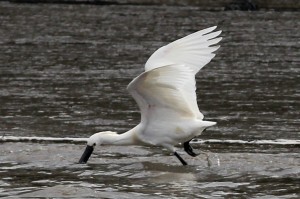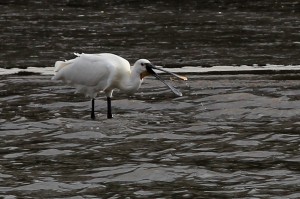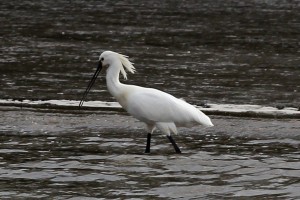 Remote touch is based on the interception of vibrations produced by moving prey.  In probing birds, this system is mediated by an organ made up of clusters of mechanoreceptors housed within pits in the bone of the bill-tips. This bill-tip organ was first described in probing shorebirds (Scolopacidae), and then in Kiwi (Apterygidae). It was found in 11 species of Ibis from 8 genera and suggested that ibises may use remote touch when foraging both in water and in granular substrates.
Another paper suggested that receptors in the tip of the bill are sensitive to the electrical fields of fish and crustaceans. They can also probably differentiate between different electrical signatures and thus avoid inedible items. Thus perhaps our Spoonbill was foraging using remote touch to maximise its chance of catching prey.
Charlie Birds superb photos capture this memorable event.
Finally a big thank you to everyone who's helped on this winters trips, especially our skipper Colin, the 'spotters' Derek, Nigel and Peter, and photographers Charlie and Tony.
Derek also provided the counts listed below. See you all next winter.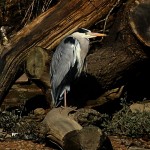 Tamar Estuary
1 Little Grebe, 2 Great Crested Grebe, 17 Cormorant, 1 Shag, 2 Little Egret, 3 Heron, 13 Mute Swan, 136 Shelduck, 60 Wigeon, 24 Teal, 20 Mallard, 2 Red-breasted Merganser, 1 Buzzard, 12 Oystercatcher, 170 Avocet, 130+ Golden Plover, 74 Black-tailed Godwit, 58 Curlew, 44 Redshank, 2 Common Sandpiper, 78 Black-headed Gull, 42 Herring Gull, 3 Great Black-backed Gull, 72 Carrion Crow.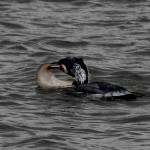 Lynher Estuary
4 Little Grebe, 18 Great Crested Grebe, , 6 Cormorant, 5 Little Egret, 3 Heron, 2 Spoonbill,  261 Shelduck, 49 Wigeon, 135 Teal, 10 Mallard, 3 Red-breasted  Merganser, 1 Buzzard, 31 Oystercatcher, 72 Avocet, 1 Snipe, 58 Curlew, 26 Redshank, 1 Greenshank, 10 Herring Gull, 3 Lesser Black-backed Gull, 65 Carrion Crow.